Welcome to our collection of funny Christmas Pictures featuring Santa Claus and his Reindeer. We hope you enjoy them, and if you do, please can you help us by sharing this post with your friends. We are adding more jokes and pictures all the time, so don't forget to come back and see what's new.
---
Santa Has Spies
---
It's A Freezing Cold Night
---
Santa & Rudolph Snow Angels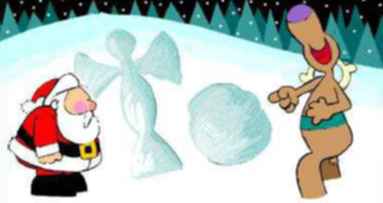 ---
Airbag Or Bubble Gum?
---
Rudolph And The Dog
---
Reindeer Job Evaluation Day
---
Rudolph Don't Forget!
---
Why Reindeer Don't Eat Cake
---
Santa Not Wearing A Seatbelt
---
Do You Know Which Are Santa's Star Reindeer?
---
Reindeer Braking
---
All Of The Other Reindeer
---
Santa's Accident
---
Santa And The Jet
---
Smoking Reindeer
---
The Reindeer Hunter
---
The Schmitt House
---
Where Icicles Come From
---
Look Out Ice Hole!
---
Hello Clarice
---
Unless stated otherwise, the images in this post were found on Facebook, Twitter or received by email. Please contact us if you own the copyright and require us to either remove an image, or to add a link back to your work.

Got any more funny pictures of Santa Claus and his Reindeer that you think we might like to add to this collection? If so, you can send them to us on Twitter.