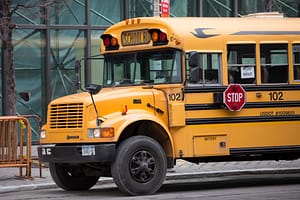 When I was at high school, my class went on a school trip and the boy I had the hots for at the time sat in the same row as me on the bus.
During the whole journey he wouldn't stop staring at me, he kept looking at my chest.
I thought it was hopefully because he liked me, so I sent him a text, "So do you like what you see?"
He immediately replied, "Not really. I'm staring at your armpit stains!".
I was horrified! I sank down in my seat and went a deep shade of crimson.
---
Image used under a Collective Commons License from https://www.publicdomainpictures.net/en/view-image.php?image=169257&picture=school-bus