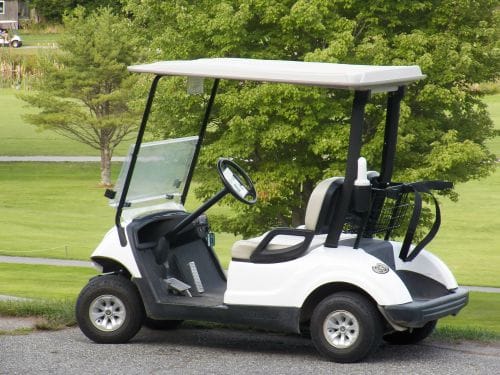 A golfer was being rather careless one day when driving between holes and ended up with an overturned golf cart.
A rather gorgeous woman, who lived in a villa along the fairway on the golf course, heard the crash and she came running over to see if everything was alright.
She yelled over to him, "Hey mister, are you okay, what's your name?"
"My name's Jonathan", the man replied, still trying to catch his breath as he recovered from the shock.
"Well Jonathan, my name is Miranda. Forget your troubles, come over to my villa, rest up and I'll help you get the cart up later", the gorgeous woman said.
"That's really nice of you", Jonathan answered, "but I don't think my wife would like it".
"Aw come on", Miranda insisted.
She was very pretty and persuasive and being a man, Jonathan agreed to go over to the villa with her.
"Okay then", Jonathan agreed, but adding "but I know my wife won't like it""
After a couple of scotches and having given Miranda some sexy driving and putting lessons, standing close behind her and with her wiggling against him, Jonathan thanked his host and got ready to leave.
"I feel a lot better now, but I know my wife is going to be really upset by now", he said to her.
"Don't be foolish!" Miranda said with a smile, she wont know anything. By the way, where is she?"
Jonathan responded, "Under the golf cart!"
---
Image used under a Collective Commons License from: https://www.needpix.com/photo/1504852/golf-golfing-golf-course-golf-cart-greens-clubhouse-sports