Welcome to our collection of funny nativity scenes and other funny nativity themed Christmas pictures, cartoons and memes.
Christmas is a time for lots of lovely Nativity scenes, but not here at The Laughline! Instead of the "run of the mill" happy birth of Baby Jesus in the manger pictures, we have some rather alternative and very funny Nativity pictures for you to enjoy as part of our Christmas jokes and funny Christmas pictures collection.
We also have here (if you scroll down), what is probably the best Nativity scene ever!
---
Nativity Scene On A Budget
The perfect Nativity scene for those Christians who are on a seriously low budget for decorating the house this year.
---
Happy Hump Day
Ah yes, that first Christmas morning saw everyone in a good mood after a sleepless night…
---
If Jesus Was Born In 2019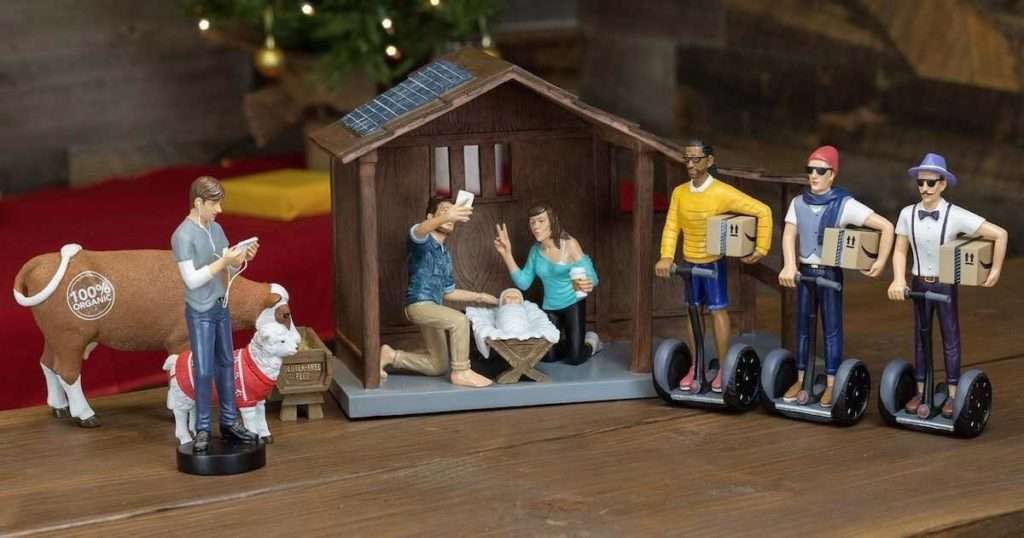 Seriously, I just can't imagine what it would be like if he was born in this day and age.
---
Nativity Scene And A Dalek!
Image used under a Collective Commons License from https://www.flickr.com/photos/methodshop/5961237737
---
Mr. Bean's Nativity Scene Massacre
This funny Nativity scene page wouldn't be complete without this snippet from the original Mr. Bean Christmas sketch, where he messes with the Nativity scene in a department store (actually one I used to shop in back in the 1990's). Complete with Dinosaurs, Tanks and of course the Daleks!
---
A Very Nutty Nativity Scene
This is just nuts isn't it!
---
The Empire Strikes Back At The Nativity Scene
Cue the Star Wars music as a bunch of Imperial Star Troopers locate the Nativity scene and kidnap baby Jesus.
---
Little Drummer Boy
Meanwhile in Bethlehem, Mary has just got her newborn baby to sleep, and some moron is outside banging on his drum!
---
Shhhh Don't Tell Mom
Well blow me down, how did Yoda get in there?
---
Probably The Best Nativity Scene Ever
I don't know about you, but in my opinion you can't beat this for the best Nativity scene ever. I bet it smells a lot better than a damp old manger when it's cooking as well.
---
How We Came To Eat Turkey At Christmas
If you ever wondered why we eat turkey on Christmas Day, well now you know.
---
Camel On A Budget
As well as Nativity Scenes at Christmas time many schools also have Nativity Plays. While some schools can afford a lot for props for their Nativity Play, others have to improvise, hence this low budget camel. Rather innovative don't you think.
---
Unless stated otherwise, these images have been found on Facebook, Twitter or were sent to us by email. We don't know who created them, but we enjoyed them and we hope that you don't mind us sharing them. Please contact us if you own the copyright, as we would at least like to attribute the pictures correctly and provide a link to your original work.