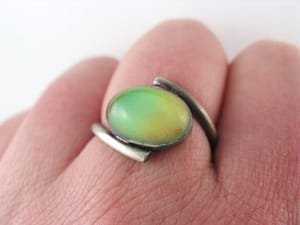 My husband has really been struggling to deal with with my mood swings as I go through menopause, so he bought me a mood ring the other day, hoping that he would be able to monitor my moods.
Would you believe that this mood ring actually works. It does, it actually changes colour to reflect my mood at any given time.
So far, we have discovered that when I'm in a good mood, it turns green.
However, when I'm in a bad mood, it leaves a big red mark on his forehead.
Maybe next time he will buy me a diamond!
---
Image used under a Collective Commons License from https://www.flickr.com/photos/rubygirlcreations/4408030282