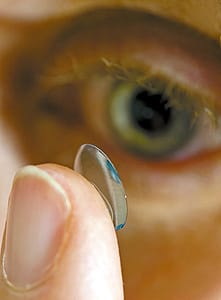 A teenager lost a contact lens while playing basketball in his driveway and after searching for what seemed like an eternity with no success, he realized that he had no choice but to go indoors and give his Mother the bad news.
"Mom", he said, "sorry but I lost my contact lens while I was playing basketball in the driveway, and I can't find it anywhere".
His Mother, undaunted, went outside, and in a few minutes she returned with the lost contact lens in her hand.
"Wow Mom" the boy said, "How did you manage to find it?"
"We weren't looking for the same thing as I was," his Mother replied. "You were looking for a small piece of plastic, I was looking for $150!"
---
Image used under a Collective Commons License from https://commons.wikimedia.org/wiki/File:CSIRO_ScienceImage_3241_O2OPTIXTM_contact_lens_for_healthier_eyes.jpg