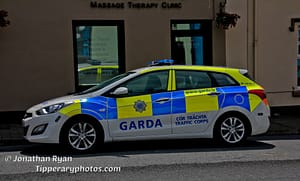 An Irish police officer was on patrol on the motorway outside Dublin when he pulled alongside a vehicle that was exceeding the speed limit.
He glanced over at the speeding car and was astonished to see an old woman behind the wheel and she was knitting.
The police officer lowered his window and yelled out to her "Pull over!"
"No", the old woman yelled back at him, not even taking her foot off the accelerator, "Scarf".
I guess I need to explain this to those of you who don't know the UK and Ireland very well and who are sitting there reading this with a puzzled look on your faces. A pullover is another word for a sweater.
---
Image used under a Collective Commons License from https://www.flickr.com/photos/vanhelsing65/14534104402