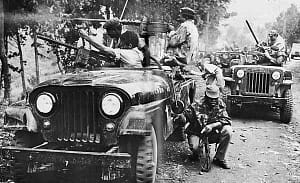 Flanagan and Murphy are two Irishmen who had signed up as mercenaries to fight for the rebels in a South American republic.
Now, captured by government troops, they face a firing squad.
"Is there any last word you would like to say before you are shot?", the captain of the government forces asked them.
"Yes", shouted Flanagan. "I'd like to say that your president is the biggest twit on God's earth".
"Quiet!" snapped Murphy. "Don't go causing trouble!"
---
Image used under a Collective Commons License from: https://en.wikipedia.org/wiki/Mercenary#/media/File:Dragonrouge2.jpg