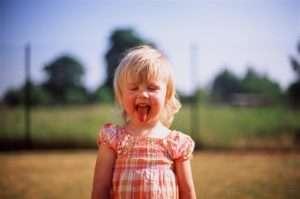 A little girl went to church with her mother for the first time.
Soon, the little girl began feeling ill.
"Mom," she whispered, "I think I'm going to throw up."
"Go out the front door, dear, then walk to the back of the church and do it behind the bushes. I'll be out shortly."
A few minutes later, the little girl returned.
"Are you feeling better?" asked the mother.
"Yes, but I didn't have to go to the back of the church like you said. They have a box next to the front door that says FOR THE SICK."
---
Image used under a Collective Commons License from: https://www.flickr.com/photos/reinis/2565809650